Bus Ride in Iran - 10 Tips, Tricks and Scams to Know
We hear now and then from foreigners about the bus scams in Iran or anywhere else while traveling. Despite losing some money, this might cause some bad feeling and disappointment for a day or even days, especially if you are really in a tough budget and you need to watch out every single dollar you spent while traveling. Having said that, we decided to write an article about "Taking a bus in Iran" with some tips, tricks and scams you should know before, while and after your BUS RIDE IN IRAN.
Planning a bus trip in Iran: (Before, While, After)
It is easy to get around with buses in Iran, especially between major and high populated cities since it is one of the most common transportation systems in Iran due to easy accessibility, inexpensive way of transpiration, bookable in the last moment (most of the case), comfortable (most of the cases). Therefore, it is one of the best options to consider as a way of getting around while traveling in Iran.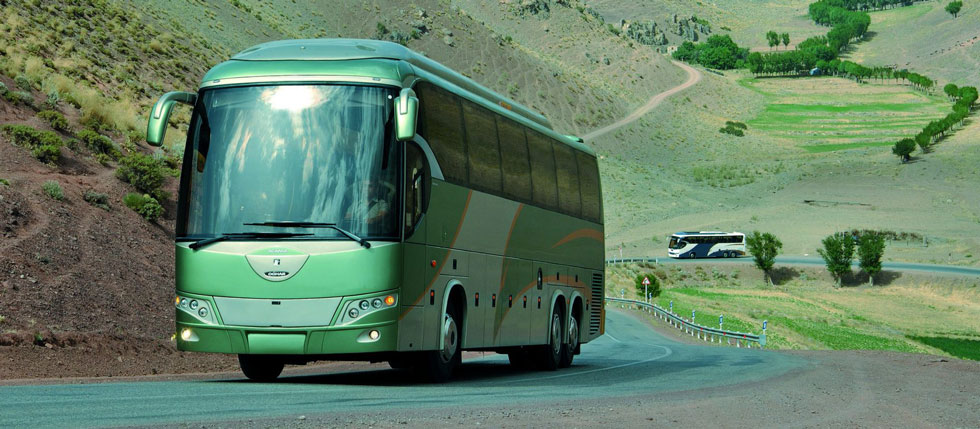 Before: (How to purchase bus ticket in Iran?)
1- Purchasing bus ticket online is one of the easy ways but usually local people avoid doing that, and for foreigners it is almost impossible to purchase online bus tickets in Iran. There are some bus ticket companies offers online bus ticket purchasing but unfortunately foreigners cannot book it online because you need to have Iranian debit card and as well be able to read their website in Persian language.
How can I buy online bus ticket in Iran? Is there any alternative?
We offer any booking service for Iran, booking bus tickets is one of them even though we don't earn a lot out of it, but as a tour operator, you need to provide all type of services rather than just those one which makes good money for you. So all you need to do just write us an email; we will do it for you with minimum service fee and you can pay us by your credit card through secured online payment system by American credit card payment processing company.
2- Another way of purchasing bus tickets in Iran is to do it in person in the bus station from the ticket counter; this is the option which foreigners and most of the local passengers or travelers would do.
How can I purchase the bus ticket in the counter at bus station?
All you need to do, just go to one of the counter and tell the name of the destination which you are going, if they don't sell ticket for that destination, they will advise you the correct counter. Remember, shop around, don't forget to bargain (sometimes it works), and ask for the time they are leaving (if they say in 5 minutes, it means probably you will end up staying on the bus for another 1 hour till it gets full) - ; )
Different type of buses in Iran:
3- Is there any difference between the buses in Iran? Yes, so what types of buses are there in Iran? We have buses which is called Takht Show, it means (the seat can get bend and become a bed), this is used for the buses which their seats can bend a lot more than other buses seats. So you seat will have ability to bend approximately 35 degree, so it is not really flat like a bed.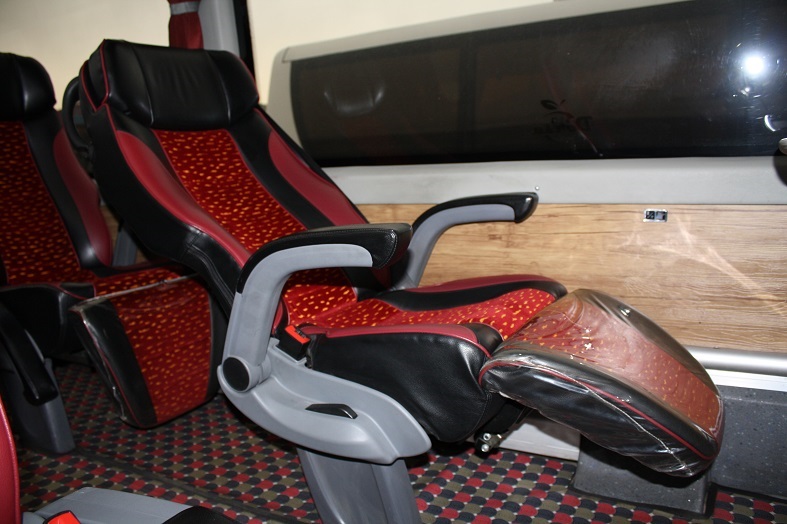 And we have two types of Takht Show buses in Iran, one with 32 seats and the other one with 25 seats which is the most comfortable one.
There is another type of bus in Iran as well which have 44 seats; this one is the bus you don't want to get on it especially for long distances. So this means your seat will bend less than 10 degree and there is a lot less legroom for your legs. And probably the bus is older model and it will go a lot slower on the road and the air conditioning might not work.
4- How many suitcases am I allowed to bring to the bus? In Iran, we don't have limit on this but you never know, the driver might ask to charge you extra for extra luggage. Usually for two or even three suitcases, it should be fine.
Some tips you should consider when you go to the bus terminals in Iran:
1- Never get tickets from people (ticket dealers) who are just calling the destination name in the terminal, unless, you know the approximate cost and you can bargain. But as a foreigner, I wouldn't recommend you to give a try to buy tickets from them, just go directly to the ticket office and buy from there. However, if you go with these guys then you won't get any discount at the counter. Because they get commission to bring you there and if you buy from them, they already added their commission and you won't get good deal or maybe even higher price. (This is same as Turkey which I had similar experience in there as well)
2- If the ticket dealers on the bus terminal follow you, tell them that you got your ticket already.
3- At counter get your ticket printed, otherwise you won't have any insurance coverage if any accident happens on the road. Why? Because they won't register your name as a passenger so they don't pay taxes to government, passenger fee to the bus station and insurance fee to insurance company which they are dealing with. Then what if an accident happens? The driver won't have such money to pay for even one passenger's injury then how about many passengers on the board or what if he passes away? So make sure to get your ticket and be sure it is register in their system. Having said that, you should have your own insurance while traveling in Iran because the insurance companies in Iran may not cover everything or all type of accidents or this and this…. So heads up, have your own insurance while traveling in Iran.
4- Make sure that the bus goes directly to your destination and they won't drop you off on the highway in the entrance of the city which you want to go. (This might not be problem for foreigners because they might not take a risk to get you on the board. Because you might freak out and cause them problem in the end of the destination if you figure out that you are not in the final destination) - But it happens to many Iranians and it happened to me as well and they changed my bus half way down the road to another bus and I got the worse seat on the other bus because there was only one seat left. ; ) – I hope it never happens to you.
5- Ask your bus type and what time it leaves? As we mentioned above, we have different types of buses. For the timing and when it leaves, usually you may not get the right answer. You can check the bus as well to see how many people are in it. If it is more than half full, then it may leave soon. (Before you purchase your ticket you can ask them to show you the bus, and they will most likely show it to you) This is an option for buses between Tehran and big cities otherwise, there might be only one option and it usually leaves within 30 mintues of the time table to a maximum of one hour.
6- Bargaining for a bus ticket is normal in Iran if you are taking buses to and from Tehran and big cities. So don't be shy to give it a try.
7- Don't feel disappointed if you are over charged, because this happens to everyone, even to a local people. Just consider it as a learning experience, definitely you have made someone happy for a day or maybe they are feeling bad now because of overcharging you. So move on and continue with your trip trip by thinking of your good moments which you have been experiencing.
While: (What would I need on a bus ride in Iran?)
1- There are no fix rules for buses in Iran. You might have taken a bus earlier and you got some snack but now you are taking the same bus again with the same company, and there is no snack at all. One bus might give you snacks when you got on the bus (small cookie, fruit juice – not fresh) and that's it and they might have some water in the refrigerator compartment in the middle of bus next to the second door and this may not be cold or it might be finish before you reach there or there may not be any at all. So remember to bring your snacks and beverages.
2- Imagine taking a flight, what would you bring with you? How would you wear in the flight? Have the same plan for taking buses in Iran. Wear different layers in summer and even in winter, because the place that driver sits and drive the bus has different temperature than the back of the bus where you are siting, so in the back, you might be too cold even in the summer time, or too hot even in the winter time. Or the worse can happen is this: it is the summer and you are burning like being in the oven. How does it feel? Even if you tell the bus driver to fix the temperature, he might listen to you or may not, and sometimes it is out of his control as well. So prepare for any possible challenge and wear wisely.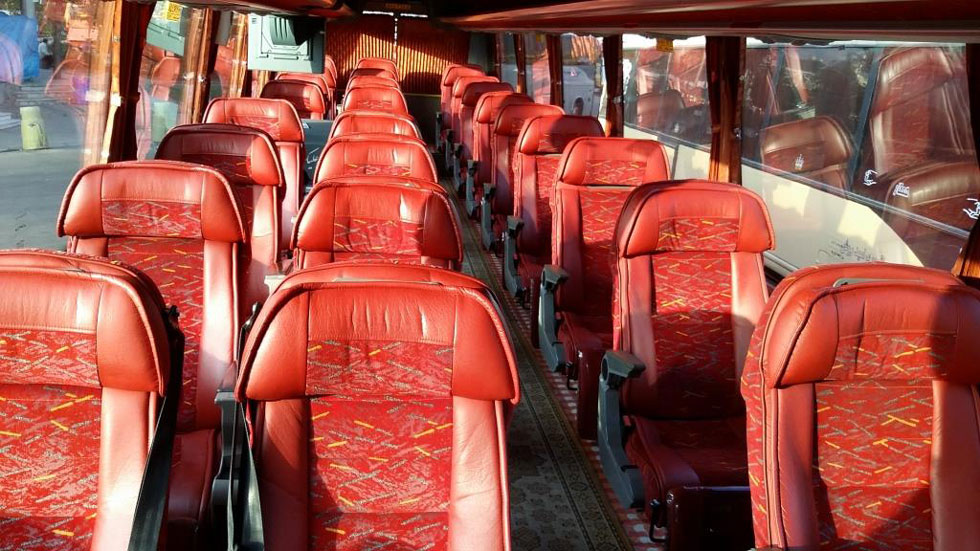 3- Do you hate the cigarette smoke? If yes, then when you are choicing your seat, select the ones in the middle of the bus and avoid siting by the driver, sometimes drivers smoke while driving the bus, even though they leave their window open, but still you would feel the smoke in the first row a lot and the cold wind blowing through open window in the winter might not be a good experience at all. But sometimes, it has good perks as well, such as getting some tea offer, or listening to the music which is only is playing for the driver and having a great view of the road.
4- When time does the bus stop for a washroom or a meal?
It always depends on the length of the drive; let's say if it is 8-9 hours drive, they would stop after 3 or 3.5 hours. So make sure to use washroom before jumping on the bus and have some snacks or don't miss your breakfast or meal time. Remember, buses often in each highway tolls stops for police check, there would be 2 or 3 minutes for you to ask the driver to let you to run to the washroom if it is out of control. Or you can quickly grab something from shop where the bus stops, but don't forget to inform the driver, or co-driver. Because you don't want them to continue without picking you up although some passengers on the bus might tell the driver you are out of the bus.
5- What to eat on the bus ride on the road?
Usually the restaurants that bus drivers stop for a lunch or a dinner, they have clean and decent food, but don't expect high ends restaurants. Try to eat less, my mother says eat chicken and not ground beef kebab on the road because you don't know what they add to it. She would also suggest me to eat raw onion with my food which it is very common in Iran; it comes with your food as a side dish. Personally, I never got sick with any food on the road in Iran, just once when I was a child.

Some security and safety advice for taking a bus in Iran: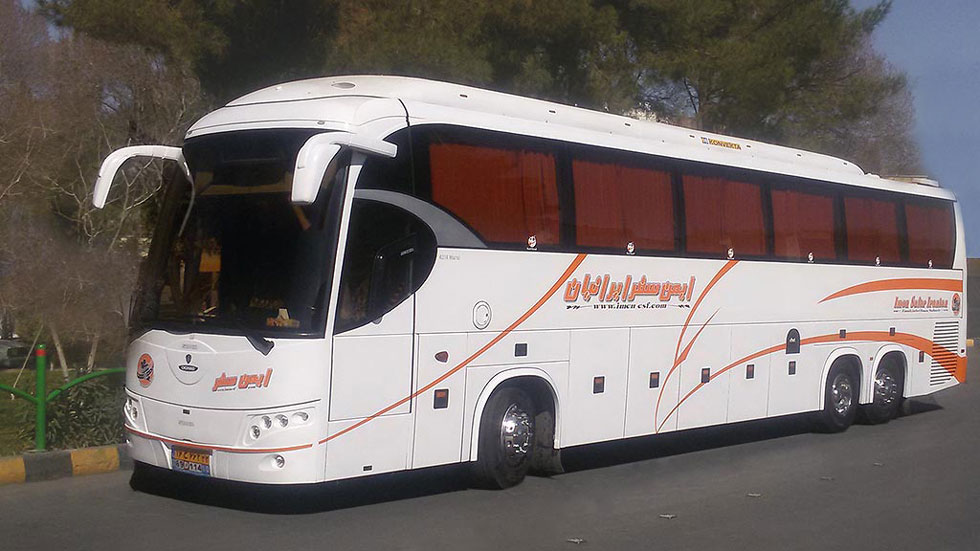 1- Iran is a safe country but always watch out your belongings, remember, there are always bad people everywhere. When bus stops for a lunch or a dinner or anything, bring your belongings down with you and don't leave it on the bus. Or when you are sleeping don't leave them on top of your head in the compartment, because the bus might stops on the way while you are sleeping and someone would get out of the bus with your bag or camera and leave the bus and since there is no any id check on the ticket selling counter, it will not be possible to find out who was that person. This has happened to one traveler whom I met in the hotel where I was staying with our clients in Shiraz. He was on the bus between Yazd and Shiraz and someone stole his camera bag with his camera in it when he was sleeping and the bus stopped for praying time in the morning and that person disapeared with traveler's camera bag.
2- If you are thinking of sleeping or you are taking overnight bus, put your all expensive belongings in your suitcase or the luggage which you will hand it over to the bus driver when you get on the bus to put it in the storage compartment. It is much safer than taking it with you to up and falling in sleep. Have a lock for your suitcase and use it all the time when you leave it far away from yourself even in the hotels. Because the bus driver's co-worker has an access to the storage room from his sleeping room so it is always better to take care of your belongings so you don't skepticism anyone afterwards.
3- When you are getting out of the bus watch out your steps and yourself, because usually where the bus drivers stop are so busy and there might be a careless car trying to get out of the parking area.
After: (Once you get to your destination)
1- Don't forget anything on the bus; you most likely won't see it again.
2- Don't believe most of the taxi drivers, they may say to you, there is no public transportation to downtown but in reality there might be city buses going to downtown or different parts of the city.
3- Ask people on the bus, how to get to your hotel or downtown, they might help you or offer you a free ride if they are going the same direction by sharing taxi with you.
4- If you arrive too early to your destination in the morning, you can always go to the waiting area on the bus terminal and spend some time before taking a taxi or bus to the city.
5- Have an idea where you will go and where is your hotel address; don't expect locals to know where your hotel's address is. However, of course, most of the taxi drivers will know your hotel's address just by hearing its name.
More Tips:
1- Bring some snacks, water and entertainment with you on the bus, because there might be lack of these things on the bus even water.
2- Have an offline translator or dictionary downloaded to your phone for communication on the bus with the person who is sitting next to you and trying to talk to you and help you out. You might get a free ride to downtown once you arrived at the bus terminal.
3- Bring power bank for charging your phone.
Frequently asked questions about bus ride in Iran:
Do I need my passport with me when I buy a bus ticket in Iran?
You should always have your passport with you traveling between two cities. However, in the most of the cases (99%), when you buy your bus ticket, they won't ask for your passport. (But for buying international bus tickets, for instance, Tehran to Yerevan, they will require your passport)
Will be there any entertainment on the bus?
The answer to this question is most likely no, especially if you don't speak or understand any Persian. In some buses they have TV or monitor in front of the seats but they show only movies in Persian, no subtitles. And in most of the case even this one is not available. So bring your own entertainment or games on the board.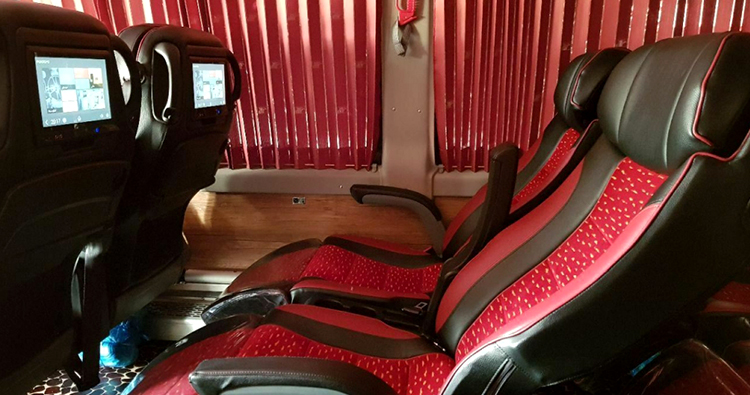 Is there any USB charger on the buses in Iran?
No (1% of time maybe), only driver has access to the USB charger on his dashboard. So bring a power bank or charge your phone before getting on board or don't finish your phone charge especially if you will need it once you get to your final destination.
Do you need help with your bus ticket purchase in Iran?
Just email us, we will do it for you,
Hope you enjoyed the 10 Tips, Tricks and Scams about bus ride in Iran. Let us know if you have any quesitons or if you require assistance with your bus ticket purchase.
The above article is written by Saeed Alizadeh, the traveler, TripYar website manager, tour guide and tour operator for over 10 years. Please ask your question, or add and share your experiences by adding it below.